Retrofit latrine add-on
Created for children and adults with a range of disabilities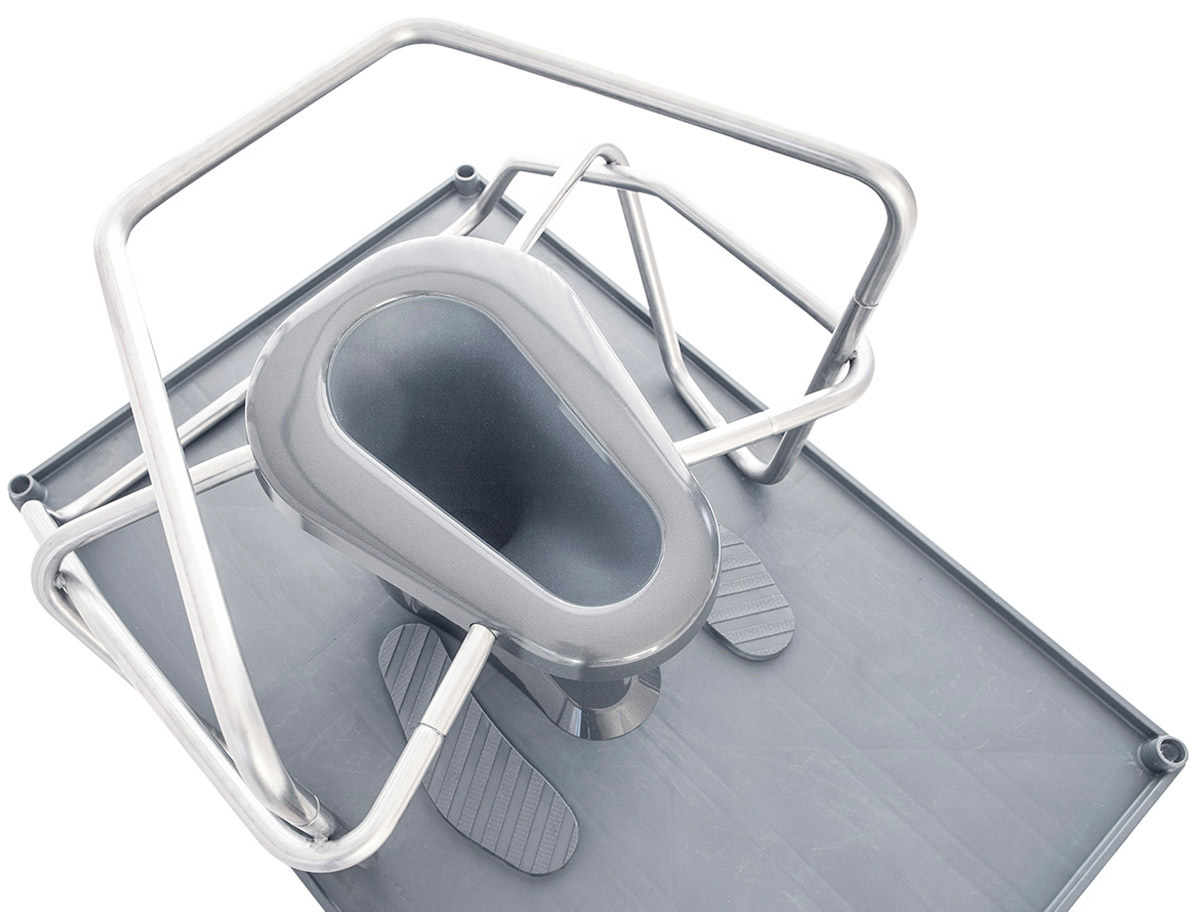 The solution
The ICONO latrine add-on solution consists of four elements that improves accessibility and hygiene:
Lightweight stainless steel frame for seat/bowl. The frame is easily assembled and fixed to the slab with four screws. The stainless steel will endure use all kinds of cleaning and disinfection agents.

Combined seat and bowl. The seat/bowl is simply clicked on the steel frame. The seat is slightly angled forwards and the seat narrows in the front in order to secure that the seat is suitable for both children and adults.

Cover plate for drop holes of existing slabs. The cover plate will help preventing flies and smell coming from the pit. It adapts to different sizes of drop holes in existing slabs presently used by aid organisations.

Silicone seal. A silicone seal is pulled over the bowl and held in place by the cover plate. The geometry and the material will allow faeces to pass to the pit, while smell and intrusion of flies will bee reduced. The seal can be cut to a shorter length to enable use with no or very limited amount of water.
ICONO's latrine project was presented at the World Humanitarian Summit 2016.
In 2020, ICONO made a long term arrangement with UNICEF regarding the latrine add-on. Latrine add-ons have since been purchased and shipped to a.o. Malawi, Central African Republic and Barbados by UNICEF.
The ICONO latrine add-on has also been purchased by Medair International and British Red Cross for use in South Sudan and Lebanon.
The background
The ICONO latrine add-on is a respond to UNICEF's Request for Proposal for developing an add-on to the presently used latrine slabs that improves sanitation facilities for people with mobility restrictions in refugee camps and settlements.
Selected design criteria set by UNICEF were as follows:
• A simple and sturdy solution
• To be added to the presently used standard latrine slabs
• To be used by people with a range of mobility restrictions (but not for people using wheel chair)
• Primarily to be used in refugee camps and settlements
• Low cost in material
• Low weight
• Easy to assemble on-site by non-skilled workers
• Slick surfaces to ensure improved hygiene
Current situation calls for better solutions
Latrine construction in emergencies usually takes place rapidly, with a row or block of latrines erected over a trench in one day. Construction and installation is done by unskilled labour with minimal instructions, using locally available tools.
Current sanitation products such as latrine slabs and super-structures used in emergencies do not include components for enabling access by elderly or people with mobility restrictions, including children.
As a makeshift solution, a small chair is sometimes positioned over the slab hole providing access for disabled individuals. Non-standard solutions like this cannot be safely secured to the slab, making them unsteady when used, and difficult to clean, collecting dirt and bacteria, and therefore potentially posing safety and health issues to users.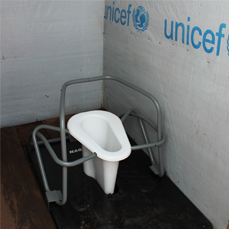 Field test of first prototypes
As a unique initiative, UNICEF inspired an innovative collaborative design process with ICONO to take part in an end user field trial in Louva refugee camp in northern Angola in 2018.
UNICEF installed a number of prototypes in the camp and developed a structured evaluation test with research protocols. ICONO was invited to participate in collecting data on-site and speak with the users directly.
The test provided feedback from the people who assembled the latrine add-on, the users (persons with disabilities and the elderly) and from those who maintain and clean the toilets.
The structured test gave ICONO valuable feedback to be included in the final product.
Large scale test of the final product
Two different disability-friendly latrine add-ons were piloted in the Rohingya settlements in Cox's Bazar, Bangladesh, in 2019 by the UNICEF Cox's Bazar WASH programme. The ICONO Latrine add-on was one of the two solutions tested.
See UNICEF's presentation of their disability-friendly latrines in Cox Bazar.
See the two add-on solutions in the UNICEF Supply Catalogue.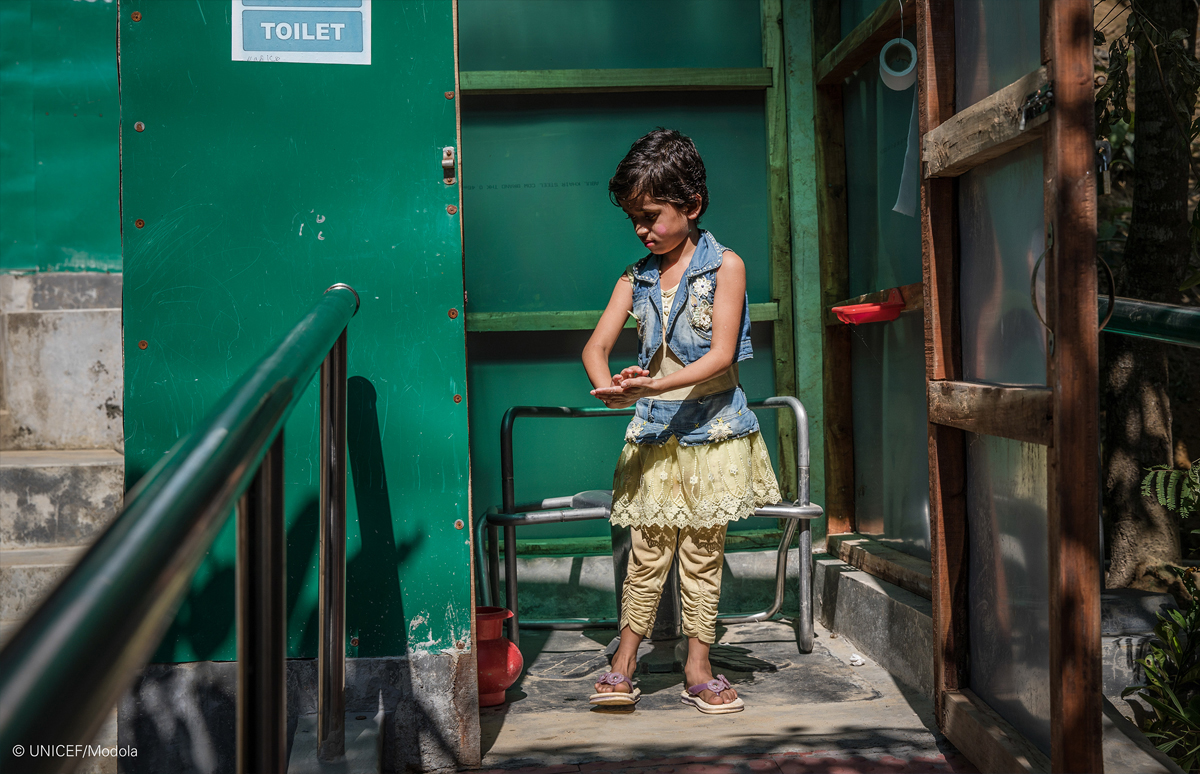 The ICONO Latrine add-on solution is presented by UNICEF Supply Division in two different videos:
Video by UNICEF Supply Division: "UNICEF Disability-friendly Latrine".
Video by UNICEF Supply Division: "The UNICEF Disability-friendly Squatting Plate Add-on in Emergencies Innovation".